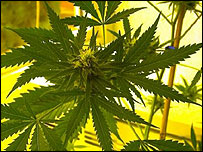 The CBD compound found in cannabis is non-toxic
A compound found in cannabis 'CBD' may stop breast cancer spreading throughout the body, US scientists believe.
There Are 2 News Reports On This Page About CBD & Medical Treatments, + We Have Just Added A U-Tube Video About CBD As Well. & There Are 8 Different Links To Other Websites Medical News Studies & Reports Concerning CBD & Medical Cancer & Pain Treatments. So There Is Plenty Of Options For You To Fully Research CBD Medical Treatments For Yourself.
CBD A New Cancer Treatment From A Natural Plant Compound!
Return Back To Main Medical Reports Page
ONLINEPOT NEWS REPORT EXPOSE'

Spain Study Confirms Cannabis Oil Cures Cancer Without Side Effects
2 Online Video's Embedded Including "Run From The Cure" & A In-Depth Cancer Research Report
SIDE NOTE: Cannabis Based Treatment For Cancer Patients, Should NEVER Be Used In Place Of Traditional Cancer Treatments. Without Talking With Your Primary Doctor First! Then "It's Your Call What To Due Next..?"
Your Body! Your Rights! Your Choice!
The California Pacific Medical Center Research Institute team are hopeful that cannabidiol or CBD could be a non-toxic alternative to chemotherapy.
Unlike cannabis, CBD does not have any psychoactive properties so its use would not violate laws, Molecular Cancer Therapeutics reports.
The authors stressed that they were not suggesting patients smoke marijuana.
They added that it would be highly unlikely that effective concentrations of CBD could be reached by smoking cannabis.
This compound offers the hope of a non-toxic therapy that could achieve the same results without any of the painful side effects


Lead researcher Dr Sean McAllister
CBD works by blocking the activity of a gene called Id-1 which is believed to be responsible for the aggressive spread of cancer cells away from the original tumour site – a process called metastasis.
Past work has shown CBD can block aggressive human brain cancers.
The latest work found CBD appeared to have a similar effect on breast cancer cells in the lab.
Future hope
Lead researcher Dr Sean McAllister said: "Right now we have a limited range of options in treating aggressive forms of cancer.
"Those treatments, such as chemotherapy, can be effective but they can also be extremely toxic and difficult for patients.
"This compound offers the hope of a non-toxic therapy that could achieve the same results without any of the painful side effects."
Dr Joanna Owens of Cancer Research UK said: "This research is at a very early stage.
"The findings will need to be followed up with clinical trials in humans to see if the CBD is safe, and whether the beneficial effects can be replicated.
"Several cancer drugs based on plant chemicals are already used widely, such as vincristine – which is derived from a type of flower called Madagascar Periwinkle and is used to treat breast and lung cancer. It will be interesting to see whether CBD will join them."
Maria Leadbeater of Breast Cancer Care said: "Many people experience side-effects while having chemotherapy, such as nausea and an increased risk of infection, which can take both a physical and emotional toll.
"Any drug that has fewer side-effects will, of course, be of great interest."
But she added: "It is clear that much more research needs to be carried out."
http://news.bbc.co.uk/2/hi/health/7098340.stm
Currently "Only" the UK is currently running medical testing with CBD on 'Live Breast Cancer Patients". & Given the USA past history with "Cannabis Based Drug"

I would not expect them to due any "Medical CBD Testing" here in the USA on Any "Live Breast Cancer Patient Subjects" For many many years from now! Ball Park 10 to 15 Years Min! Which
in my thought that how many 10,000 to 100,000 US Based Cancer Patients Are Going To DIE! Before The US Administration & The FDA gets off their butts. & Start testing this derivative of the Cannabis Plant on the sick & dieing Cancer patients here in the USA.

I am Not a Doctor Or A Scientist

But I personally have seen 1 lady that Breast Cancer is litterly "Eating Its Way Thru Her Entire Family" 1 dead all ready, 1 more in the hospital as I type this thats dieing, another being told that they need to remove a breast, & This lady who 3 days before Xmas got that bad news that she has a cancer lump in her beast, Which was causing a great pain on her breast nipple, & That within 8 to 10 days, Of starting the CBD Treatment, That pain in her breast nipple was GONE!

I am NOT a DR! I am NOT saying this is a miracle cure!

I am just saying that "The Scientists Here in The USA" Needs To Start Testing This CBD Right NOW!


How many more cancer patients are going to have to die…?

Before the USA FEDS gets off there butts & instructs the FDA to get the "Live Cancer Patients Clinical Medical Testing" going on CBD ASAP!

CDB doesn't even get you high, There Are ZERO Physcotropics in CBD!

Sincerely Chris/OLP


CBD OIL IS NOW AVAILABLE ONLINE





Meet your own underground med MMJ in Canada on the Internet. I have made the CBD for the British MS patients. And the olive oil which is very easy to use. I use 10 grams per bottle and the Canadian clubs swear by it in their cooking. This CBD does not have the terrible taste when used in cooking recipes. like you get when you use "Canna Butter". Once they started using it we heard a lot of misdiagnosed cancer stories. I have a 80% reorder rate from cancer and MS patients. They use it for pain.

Contact Sunny at sunny123@hush.ai


RELATED INTERNET LINKS

Breakthrough Breast Cancer

Marijuana And Cancer: Scientists Find Cannabis Compound Stops Metastasis In Aggressive Cancers
Learn More About CBD & Cancer Treatment.
Cancer Cured..? A Cannabis Story
http://en.wikipedia.org/wiki/Cannabidiol
Another Article About CBD
Cannabidiol, also known as CBD, is a cannabinoid found in Cannabis. It is a major constituent of the plant, representing up to 40% in its extracts.[1]
CBD alone is not intoxicating, but it appears to moderate the euphoric effect of tetrahydrocannabinol (THC), which is an isomer of cannabidiol and add a sedative quality.[2] Some research, however, indicates that CBD can increase alertness.[3] It may decrease the rate of THC clearance from the body, perhaps by interfering with the metabolism of THC in the liver. CBD does not appear to affect either the CB1 or CB2 receptors.[4]
Medically, it appears to relieve convulsion, inflammation, anxiety, and nausea, and to inhibit cancer cell growth.[5] Recent studies have shown cannabidiol to be as effective as atypical antipsychotics in treating schizophrenia.[6] In November 2007 it was reported that CBD reduces growth of aggressive human breast cancer cells in vitro and reduces their invasiveness. It thus represents the first non-toxic exogenous agent that can lead to down-regulation of tumor aggressiveness.[7][8] It is also a neuroprotective antioxidant.[9]
Medicinal use
In April 2005, Canadian authorities approved the marketing of Sativex, a mouth spray for multiple sclerosis to alleviate pain. Sativex contains tetrahydrocannabinol together with cannabidiol. It is marketed in Canada by GW Pharmaceuticals.
Initial research is showing that CBD has an effect in reducing schizophrenic symptoms in patients.[10]
Pharmacology
Cannabidiol does not bind to CB1 or CB2 receptors but it does block the effects of cannabinoid agonists by an unknown indirect way.[11] Recently it was found to be an antagonist at the putative new cannabinoid receptor, GPR55, a GPCR expressed in the caudate nucleus and putamen.[12]
Cannabidiol has also been shown to inhibit cancer cell growth, with low potency in non-cancer cells. Although the inhibitory mechanism is not yet fully understood, Ligresti et al suggest that "cannabidiol exerts its effects on these cells through a combination of mechanisms that include either direct or indirect activation of CB2 and TRPV1 receptors, and induction of oxidative stress, all contributing to induce apoptosis."[13] In November 2007, researchers at the California Pacific Medical Center reported that CBD shows promise for controlling the spread of metastatic breast cancer. In vitro CBD down regulates the activity of the gene Id-1 which is responsible for tumor metastasis.[7]
Chemistry
Cannabidiol is insoluble in water but soluble in organic solvents. At room temperature it is a colorless crystalline solid.[14] In strongly basic medium and the presence of air it is oxidized to a quinone.[15] Under acidic conditions it cyclizes to THC.[16] The synthesis of cannabidiol has been accomplished by several research groups.[17][18][19]
Legal Status
Cannabidiol is a Schedule I drug in the USA, despite having no psychoactive effects and no known abuse potential. The strict legal status may be due to the fact that CBD has been shown to inhibit the anxiety that THC can induce at high doses ~0.5mg/kg[20] and also how easily CBD could be converted to THC, as outlined above.