Welcome To OnlinePot The Most Comprehensive
Resource On Medical Marijuana
Everything That You Always Wanted To Know About Medical Marijuana, Cannabis,
But Were Always Afraid To Just Ask…. Learn Everything You Need To Know Here Online!
---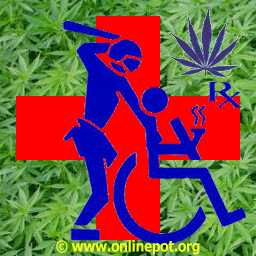 Click Logo Or The Link Here To Enter OnlinePot!

 This Site Is Designed To Be Easily Viewed
By Patients With Limited Sight Or Glaucoma
---
Marijuana Legal Resources and Attorneys
Are you facing criminal charges due to drug possession? If so, we understand that you'll likely need an experienced attorney to assist you.
Here at Onlinepot, we provide a list of attorneys with a proven track record of handling criminal charges.
If you're facing charges in the Chicago area, speak with Chicago criminal attorney Gus Kostopolous. He's a former prosecutor with over 18 years experience.
Despite recent changes in California laws, drug crimes are still aggressively prosecuted.
A criminal conviction can mean fines, loss of job opportunities, and even jail time.
For the past 16 years, San Diego criminal defense attorney Vikas Bajaj has helped those facing criminal charges. Contact him today to find out how he can assist you.
For more information on drug crimes attorneys, visit NORML's attorney directory. They list criminal defense firms throughout the U.S. that can help you if you're facing criminal charges.
---
Legal Disclaimer
On entering this site, you must read,
understand and agree to our legal disclaimer.
I Understand That:
1.  All content at OnlinePot.Org is for EDUCATIONAL and RESEARCH purposes ONLY.
This web site is for MATURE audiences only. We strongly encourage those users under 18 years of age
 To Exit This Site Immediately.
2.The services of this website are not provided by Qualified Medical or Legal Practitioners.
3.Cultivation & Possession of Medical Marijuana or seeds may not be legal in some jurisdictions, & it is up to you to secure individual permission & take full responsibility for your actions.
4.That this website does not ever sell pot to anyone!  We wish the US laws were different & that we could could directly help all the valid medical patients.  But they are NOT! So Please Don't Waste Your Time & Mine Emailing Asking Us To Sell You Pot!
5.That you swear under oath in a US Court of Law, That you are not a Law Enforcement official or
working or reporting to a Law Enforcement Agency, or a US Postal Inspector or a US Customs Inspector,
& Here for the purpose of entrapment or harassment of the medical patients, or the webmaster. & If you are any
of the above you are TO EXIT THIS WEBSITE IMMEDIATELY!
6. This website is intended for Medical Marijuana Patients, Caregivers, Doctors,
Researchers, News Reporters, Defense Attorneys & Scientists Only!   All Others Please Exit Now!
7. All Posts Here, Elsewhere, Or PM's Or Emails, Or Phone Calls By Me!
Are "All To Be Legal Online News Reports Exposé's" By Me!"
And Are Legally Covered Under My Legal Constitutional Rights
As A Online News Journalist!"
8. I NEVER personally assist in any way, shape, or form for anyone to help get any illegal substances.
You Must Be At Lest 18 Years Old To Enter Here!
On entering this site, you have read, understand and agreed to the above legal disclaimer & That you swear under oath to it in a US Court of Law
So Help You God!
OR YOU MUST EXIT THIS WEBSITE IMMEDIATELY!
We strongly support parental controls here.
This website's content is not intended  to be viewed by any minors.
If you do wish to block this site from being viewed on your computer?
Please use the following below parental control blocking software

CyberPatrol

1999-2017 Copyright©
All rights reserved